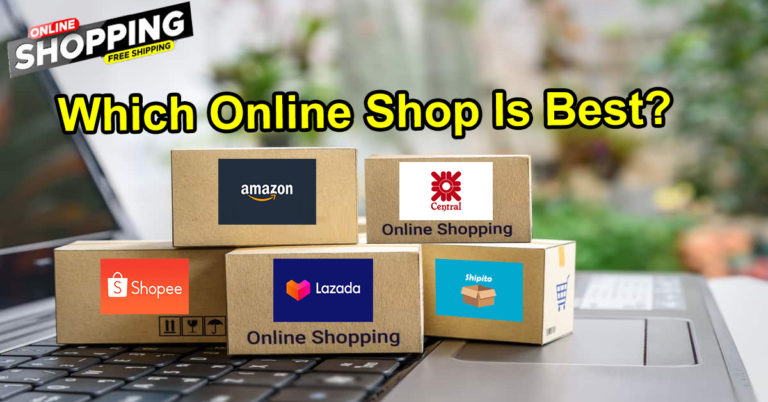 Thailand has become super-efficient when it comes to online shopping, in the last few years several Apps and Websites have appeared which makes buying anything possible online. Even if the shop does not actually have an online shop app such as Grab, Deliveree, Lineman etc. have allowed you to just buy from a regular shop and have it delivered straight to your doorstep.
During the Covid19 pandemic online sales have soared and many restaurants who had never thought of selling online suddenly have realized that online can be better than a normal shop. The overheads are lower as you do not need a prime location, staff costs are less, and the customers can be located almost anywhere.
When it comes to retail most of the large department stores have an online ordering system, this includes places such as Central world, Homepro, Ikea, Macro, Tesco's and many more even your local 7-11 has an online ordering and free delivery. Also, many of the smaller expat food sellers have an online order system so you can get your fresh pies, Branston pickle and all your other favorite delicacies delivered within 24hrs. There really is no need to waste hours looking around the stores and sitting in Thailand traffic, everything is just a click away.
So where is the best place to buy things?
As with anything it all depends on what you need. The two largest Thai online marketplaces are Lazada and Shopee these have pretty much anything you can think of, then there are all the individual shops as well as the global outlets such as Amazon which also deliver to Thailand.
With Lazada and Shopee, these websites act as a third party for smaller sellers that then sell their products via the online platform, the good thing is that the main operator takes the responsibility for payment and delivery so you can trust you will get the goods. In most cases you have buyer protection which means if you do not receive the goods or have any problems its pretty easy to get a refund as the seller has to prove they delivered and not the other way round.
We have summarized some of the best online platforms below which we would recommend.
Lazada is one of the largest and longest running online platforms. Lazada has everything you can think of from kitchen equipment, DIY materials and a whole range of expat foods.
The site is in English and Thai which makes searching extremely easy and you can also filter your results by local sellers or sellers located in other countries. When searching for a product you will be presented with 100s of results and the best thing to do is then sort into price order from lowest to highest and you can then choose the cheapest seller for the product you need.
For payment you have several choices which include Credit Card, Bank Transfer, Lazada Wallet and Cash on Delivery. The best way to pay if by Lazada Wallet, the reason for this is that if you return the goods and need a refund the money is placed back in your wallet within around 5 – 7 days. Any other payment method can take up to 45 days to get a refund.
One of the best online platforms in Thailand. Easy to use and reliable. All purchases are the final price with no additional taxes or vat to be added
Shopee is probably Thailand's second largest online platform and offers much the same as Lazada.
Unfortunately, the website is in Thai Only but if you use google auto translate it does change most of the text to English. Navigating the site can be a little difficult and annoying.
As with most other sites it offers various payment methods as well as local bank transfer and cash on delivery for orders under 36,000 baht. It also has the buyer protection and good refund policy.
Shopee has a lot of offers but Thai Language only and not as easy to use. All purchases are the final price with no additional taxes or vat to be added
Amazon is one of the worlds largest online shops. The good news is that Amazon does deliver to Thailand but not all products. If browsing from Thailand some products will be marked as unavailable. Amazon has a whole range of products and again prices vary depending on the sellers listing items on there.
Amazon offers a good range of payment methods to those in the USA but if paying from Thailand you will need a credit card, or you can pay by Western Union. Amazon has the buyer protection for most purchases.
Amazon is a well-known brand which has been operating for years. For Thailand it is a little limited and the payments methods not as flexible. Also shipping costs and import tax can increase prices dramatically
Central Group is one of  Thailand's most famous shopping brands with malls all over the Kingdom. The online shops allow you to purchase most items available in store. You can choose to have the items delivered to you or you can select a local pickup instead. The items are normally slightly more than some of the same items in Lazada or Shopee.
The site is in both Thai and English and easy to navigate. As with most others they offer multiple payment options including bank transfer and cash on delivery however the cash on delivery is limited to 7000 baht maximum.
A good option to buy items online and a reliable name. Items are normally more expensive than some of the other online platforms
Shipto is slightly different to the above online shops but we thought it would be worth a mention as it allows a way to buy a whole range of goods from the USA and have them shipped to a local USA warehouse to be consolidated and then you can ship one final package to Thailand. This means you can buy from all the online stores in the US and have them sent to Thailand even if they do not normally ship to Thailand.
It works by giving you a local "warehouse / suite address" which you use when buying items online. Everything is then sent to your local address in the US. You can then choose to consolidate all into one package which then ships to your Thailand address. They charge a small fee for the service and you need to join as a member.
Shipito is a great option if you want access to all of the US online outlets but limited payment options and can be difficult to follow up on claims